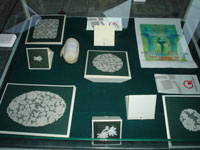 The project called "Creative Hands of Zadar", started off initially as an idea of the members of the association who make souvenirs, decorations and jewellery, with the aim of presenting their own products which make up traditional souvenirs and handcrafts.
An exhibition was held in September 2003, on the premises of "Gradska straža" in Zadar, where 15 exhibitors from Zadar presented their work. The exhibition was well received from exhibitors and visitors alike.
2005 was proclaimed the year of traditional and artistic trades by the Croatian Chambers of Trades and Crafts, which was a motive for the repetition of the exhibition Creative Hands of Zadar, in June 2006.
During the period 3-5 June 2005 on the premises of "Gradska Loža", 13 members who are involved in producing souvenirs, decorations and jewellery, as well as their guests, Lace makers from Lepoglava, and Lace makers from Pag, presented their work.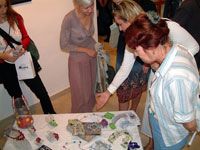 Throughout the duration of the project and in cooperation with Zadar City Library, a round table was organised entitled "Creating Together an Authentic Product", with the aim of connecting the areas of creativity and placing traditional products on the market as well as preserving cultural inheritance and traditional commercial values. During the round table, in an open discussion producers, art historians and promoters took an active part making contacts and arranging further cooperation.
This project was nominated by Association of Trades and Crafts Zadar for support from the Ministry of Economy, Labour and Entrepreneurship, and within the Programme of stimulation of small and medium entrepreneurship for 2005, the project "Stimulation of Marketing Activities". Recognising its quality, the Ministry accepted the request for support and in greater measure co-financed its organisation.